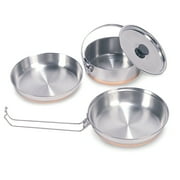 Made of rugged, high quality stainless steel, this Stansport stainless steel cookware mess kit with copper bottom is safe to use and easy to clean. The copper bottom ensures uniform heat distribution for predictable cooking quality. The foldaway, stay-cool handles are portable and protective. This set fully nests together and can pack into their own included nylon cover for convenient packing.
Customer Reviews
Impressive for backpacking.
Awesome little collection of cookware for hiking or camping! Great for backpack carrying. Very good for one person. Haven't used it yet, but it looks well made and I believe it would work for for a very long time. Good quality.
Good Buy Overall ...
Haven't used it yet ... But I am happy with the quality ... I would like a bigger Lot ... But for one this is decent ... Good buy overall ...Superdivemaster
good value
Solid construction. Doesn't feel flimsy or cheap.LilAntny
You may also be interested in