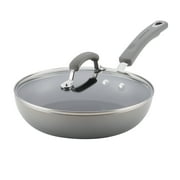 One-Pan wonder meals are in easy everyday reach with the Rachael Ray® Classic Brights Hard Enamel Nonstick 9.5-Inch Covered Deep Skillet. This handy pan features deeper walls compared to a standard skillet to easily manage multiple ingredients for one-pan meals like Rach's Skillet-Roasted Chicken with Rosti Potatoes and Baby Veggies. Combining superior performance, fun contemporary color and durable materials, this skillet is ideal for Rachael's Peppers 'n' Potatoes Beef Skillet Supper. The pan's sturdy construction promotes even heating, helping to reduce hot spots that can burn foods, and the two-tone bold enamel exterior shows plenty of stylish kitchen personality. A durable nonstick interior provides superior food release and makes cleanup a breeze. Oven safe to 350° F, the skillet's comfortable grippy handle is double riveted for extra strength, while a shatter-resistant tempered glass lid seals in heat and moisture even as you watch ingredients cook up. Discover a fun and stylish pan that goes deep on the stovetop with the bold and contemporary Rachael Ray® Classic Brights Hard Enamel Nonstick 9.5-Inch Covered Deep Skillet.
Customer Reviews
I would buy more of this brand
I have been searching for a pan that will hold up and actually be non stick. This pan is great. It really is non stick even without butter. It's held up through the dishwasher and still looks brand new. The temperature stays even throughout the pan. The handle is silicone and feels nice in your hand without getting hot. The grey color is also a bonus because it matches the kitchen and is pleasant to look at.Jlmartin
I like it
I love this skillet and have been using it non stop since I got it. The skillet looks great and I love the sea salt gray color. The skillet is also nonstick and not flimsy so the food doesn't stick or gets burnt easily. I also love that it comes with a lid. The cleanup is a breeze too. The skillet was deep enough to cook enough food without spilling over while stirring. I have been reaching for this skillet over my other pots and pans and will be purchasing more products from Rachel Ray. I love to cook and am so glad that I found out about this skillet and got to try it. I definitely recommend this to others.
I like it
I love this skillet and have been using it non stop since I got it. The skillet looks great and I love the sea salt gray color. The skillet is also nonstick and not flimsy so the food doesn't stick or gets burnt easily. I also love that it comes with a lid. The cleanup is a breeze too. The skillet was deep enough to cook enough food without spilling over while stirring. I have been reaching for this skillet over my other pots and pans and will be purchasing more products from Rachel Ray. I love to cook and am so glad that I found out about this skillet and got to try it. I definitely recommend this to others.@kam
You may also be interested in