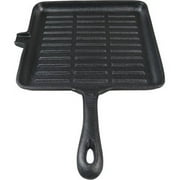 Enjoy cooking your favorite recipes on this Ozark Trail Square Pre-Seasoned Cast Iron Griddle with Handle. This cast iron griddle is ideal for cooking over open flames at the campground or on your kitchen stove in the comfort of your own home. This Ozark Trail Pre-seasoned Griddle gives food a deliciously hearty flavor that only comes from cast iron. It comes pre-seasoned for added convenience and can be used to brown, roast, fry or grill meats, vegetables or whatever you're in the mood for. The Ozark Trail Square Griddle is ideal for whipping up a whole breakfast complete with bacon, sausage, eggs, French toast and more. It is offered in two different sizes to meet your cooking and grilling needs. The Ozark Trail Square Cast Iron Griddle is simple to clean and maintain and can be hung on a hook to keep it out of the way but easily accessible when not in use.
Gives food a deliciously hearty flavor
Pre-seasoned
Cast iron camping griddle available in sizes 9.5" x 9.5" and 11" x 11"
Customer Reviews
Great for grilling.
This is the perfect size for my grill. I am using it all the time time for vegetables and small items.TexasTransplant2003
Ozark Trail 11" Square Pre-seasoned Cast Iron Grid
What can you say great skillet griddle great purchase happy with purchase96F150
First time with cast iron
We are very happy with this cast iron griddle. It's the first one we've owned so I don't have anything to compare it to but it serves its purpose well.Domenica
You may also be interested in