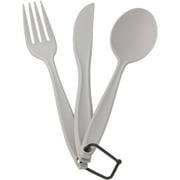 Tuck this Ozark Trail 3-piece Plastic Flatware Set into your gear bag or backpack the next time you head to the campground or picnic. This versatile set features a spoon, fork and knife. Durable and reusable, the 3-piece flatware grouping allows you to enjoy everything from soup and chili to meat and grilled vegetables. These are intended as occasional eating utensils, however they are made from sturdy polystyrene and are sure to be a camping companion for years to come. At this great price, you can stock up and never be caught eating with your hands - unless you want too. Keep a set in your car or truck, just in case. Keep a few extra sets in the picnic basket or cooler in case friends show up. Where you are, when it is time to eat, grab your 3-piece flatware set by Ozark Trail instead of single-use flatware, and dig in.
Customer Reviews
So convenient
I purchased two sets for my glove box. On occasion we eat out on an early morning before a long day or evening after a long day and there's never silverware in the bags. This has helped us out on many occasions. Very convenientNjshopacholic
Utilitarian set you don't have to track
Durable, inexpensive. Usable knife, solid fork, spoon that is perfect for soups and stews. I bought them for camping, then bought more to include in lunch boxes.
Great compact and sturdy set
This plastic-wear is surprisingly a lot sturdier than expected and the knife is actually quite sharp! This set is small enough to pack away easily, but cheaply made to where it breaks in tight spaces. Highly recommend for camping or backpackingBrittany
You may also be interested in