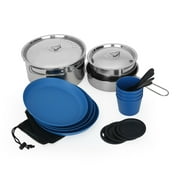 If you enjoy camping, you're going to really enjoy this 22-piece cook and dine set during your next outdoors adventure. This set made by Ozark Trail, provides 4 place settings and a durable and versatile variety of cookware. Pot and lid are made from non-stick material for easy cleanup. The dinnerware is made from polystyrene and the cook ware is made from sturdy aluminum, promising years of use. The set is also earth-friendly! It comes with it's own polystyrene flatware and re-usable plastic cups so you won't need to rely on single-use alternatives. When you're done eating, just clean it and pack it all up in a mesh carrying bag for easy transport. This lightweight and compact stainless-steel collection is a complete 4-person dining set. The Ozark Trail Cook and Eat Set Features: 1 - 8.4 inch frying pan, 1 - 5.6 Quart stockpot, 1 - 2.5 Quart stockpot, 2 Lids, 4 - 9inch plates, 4 Sporks, 4- 12 ounce plastic cups, 4- plastic cup lids and 1 Mesh carrying bag.
DURABLE- Cookware is made from stainless steel and are sure to be a camping companion for years to come
LETS GO CAMPING- Great option for campers to use when looking to travel light, but still have a variety of cook & dine ware available.The polystyrene dine ware is dishwasher safe, but the aluminum cook ware must be hand washed.
Customer Reviews
Love this camp cook set
I have recently recieved the "Ozark Trail 22 Piece Cook And Eat Set" from the sparks program. I was soo excited when offered this! I love camping gear and hunting stuff so this was perfect for me and my family. This set is really good and definitely worth the price! It comes with several pots, plates, cups, eating utensils, and cup covers. The largest pot is a Non-Stick Pot with lid (5.6 inches), next is a Non-Stick Pot with lid (2.5 inches), one Frying Pan with Removable Handle (8.4 inches), 4 Plates (9 inches in length), 4 Plastic Cups with lids (can hold 12 ounces of liquid), 4 Sporks, and 1 Mesh bag to carry it all in. The pots are nonstick so food shouldn't stick when frying or cooking. The plates and cups are made of polystyrene plastic material and are very easy to wash. It is a very durable, thick plastic that can hold a decent amount of food or liquid. The cup covers are very nice and snap onto each cup. They have a small hole on one side to sip your beverage through. One of the pots have a lid with steam vents, a very nice addition. This is a great set and perfect for when multiple people go camping!Athena
Small and compact
When you go camping you like to take up the less room as you can. In this case you can! This cooking set all folds and Stacks into each other fits nice and neat in a mesh carrying bag. It comes with 1 Non-Stick Pot with lid (5.6 inches) 1 Non-Stick Pot with lid (2.5 inches) 1 Fry Pan with Removable Handle (8.4 inches) 4 Plates (9 inches) 4 Plastic Cups with lids (12 ounces) 4 Sporks. Lite blue in color easy to clean made from sturdy aluminum. They are to light so of you have to walk away then it won't be a lot to carry. They don't recommend you wash them in the dishwasher. I like to bring everything home and make sure it is sanitized before putting it away. That may be the only thing I dislike about them. Can't wait for this virus stuff to be over so I can use them more than just the one time for this review.Angy
Compact essentials
I received the Ozark Trail 22 Piece Cook and Eat Set. This is a great compact, nesting set for camping. The set consists of 1-8.4 inch frying pan, 1-5.6 qt pot, 1-2.5 qt pot, 2-lids, 4-9 inch plates, 4-sporks, 4-12 oz cups, 4-cup lids, and 1 mesh carrying bag. The biggest thing that allows this set to be compact is the handles on the pots and pan. The handles on the pots curve around the pot when not in use. And, the handle on the pan flips under the bottom of the pan. The set is not only compact, it is lightweight. This is a good thing because you have to pack a lot of things when your are camping. The mesh bag is a very nice addition. Because, it keeps the set together. A set is not of any use if you do not have all of the parts to it.plumsharp
You may also be interested in