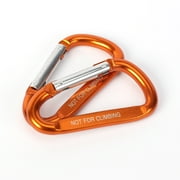 Whether you are hiking, backpacking or heading to a camp, the Ozark Trail carabiner is a great help when you need a quick and secure attachment. These 2 aluminum, spring-loaded carabiners can support up top 150lbs each and clip to backpacks, belt loops and other gear for maximum, hand-free carrying. This clip is in D-shape with 8cm size, making it strong and durable for multiple use. They are not rated for climbing, overheated lifting or any safety applications. Add the Ozark Trail D-shaped carabiners to your emergency or survival kit, keep you prepared whenever in need.
Made from aluminum construction
Maximum working load: 150lbs8cm size with D-shape
Spring-loaded for easy operation
Lightweight, strong and durable
Not rated for climbing or safety applications
Customer Reviews
Good quality metal, clicks into place easily
The Ozark Trail 2 pack spring loaded D-shaped carabiners are made of a good quality metal that states it has a safe working load of 150 lbs. They can easily open and attach to hang items like bluetooth speakers, keys or tools. They work great attaching my keys to my belt loop so they are always with me. They also work great attaching my bluetooth speaker to the sun umbrella outside. They have endless uses and seem to work pretty well for what I have used them for. They are pretty lightweight themselves so they don't break my belt loops when using them for keys.
I love these things.
What can't you use these for? I use them to hang my hats to clothes hooks, attach my water bottles to my belt loops, attach my dog's waste bag holder to his leash, hang items from the cross bar of my shed, hang my motorcycle keys, hang my compass when hiking, and on and on. These have good quality springs and last almost forever. I own dozens of them, and use them all the time.pjc87guy
The Perfect Size!
I love having the Ozark Trail Carabiners and use them for so many different things. My favorite feature is that they can load up to 150lbs and carry a lot. I use them for my 40oz water bottle, holding tools, flashlights, and basic use for hiking and camping. I like the bright orange color making them easy to see and they are made of aluminum construction. They are 8cm with a D-shape and can hang on ropes easily. These are great carabiners that have many different uses.ReviewRunner
You may also be interested in