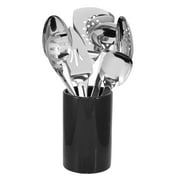 The Oneida® 8 Piece Crock Set contains all the tools you need for cooking and serving in style. Features the following tools in mirror polished stainless steel: 11.5" Pastry Server, 13" Slotted Spoon, 13" Basting Spoon, 13.5" Slotted Turner, 12" Ladle, 9.75" Salad Spoon, and 12" Pasta Scoop. All tools fit neatly inside the black ceramic crock and are dishwasher safe. This set includes a lifetime warranty. Makes a great gift!
All tools are mirror polished stainless steel and dishwasher safe6" black ceramic crock fits all tools for easy countertop access
Lifetime warranty
Customer Reviews
Best Utensils I've ever bought!
The best cooking utensils I've ever owned there heavy and well made and they keep there extra polished finish. There great fir the price I've bought cheaper sets before and there not worth having they melt and stain or fall apart but not these there really great I'm ordering more to give them as Gifts for next Christmas!
I always have loved Oneida durability and function
Durability is still out. It is same shape as other pieces I bought in past, but they were constructed as one piece. But these are constructed with the handle as a piece welded onto the end-spoon, or Spaghetti, pie server, etc.... I love Oneida quality in all I have in my kitchen! The black ceramic vase is nice.Teresa
Chic and Cheap!
I have to go along with everyone else in rating this set very highly. The utensils look so good; bright and shiny, sleek, and seemingly well made. Though 2 piece construction on each piece, there are no cheap looking rivets; I guess the word would be "welded" together. The utensils look strong, solid and stylish. I'd say alot of value here for only $25 with the crock to hold 'em all. I think this would also be a great gift. It looks more expensive than $25. Looking forward to using 'em and with Oneida, that's a name brand, so it'll be good I'm sure. Get it while you can, I had to wait a little while for mine!GuitarSlim
You may also be interested in