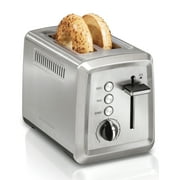 Hamilton Beach 2 Slice Extra-Wide Slot Toaster Chrome | Model# 22794 With the Hamilton Beach 2 Slice Toaster, toasting bread is just the beginning. Bagel and Defrost settings, extra-wide slots and toast boost technology make it ideal for bagels, English muffins, thick slices of artisan bread, frozen waffles and more.
Customer Reviews
Great, high quality, affordable toaster
Love the extra wide slots and the lift lever to help bring the toast/bagel up to top for easy grabbing. The push buttons light up (blue circle) when pushed/in use and each different function (Cancel, Bagel, Defrost) works great. Takes a bit of effort to push buttons but also nice to help alleviate accidentally pushing one.youmommo
Awesome toaster
Perfect buy for a student or someone living on their own. Its simple, and it does the job. Looks great on the counter too. Only thing I would ask Hamilton Beach to do better if I could is to make the cord longer...its only about 2.5 or 3 feet long.
Best toaster I ever bought
This toaster has great features. My two best is the defrost button for frozen waffles and the bagel button that you can also use for buns, it will only tost the inside so you don't get a burned bun/bagel too.auntiesunshine
You may also be interested in