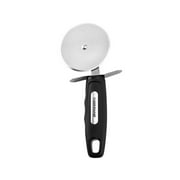 The Farberware Professional Pizza Cutter comes in black and has a sharp blade that easily slices thru pizza. This cutter is also great for cutting dough and is made of durable stainless steel. It is dishwasher safe and comes with a limited lifetime warranty.
Customer Reviews
Great
Works well, clean up is easy, kiddos like that they can use it. ( We have teens) Good item great for any pizza loving familyAmanda
Great Pizza Cutter
This item was gifted to me so that I would provide an honest opinion of it.
This pizza cutter is Dishwasher safe . Rolls easily to cut pizza in my pans and even on my stone pizza plate. Blade is sharp and sliced so easily through my store bought pizza.. I like that it has a lifetime warranty. I'm not sure how long the blade will last in sharpness, but having the warranty helps. It worked wonderfully on both types of pizza. Store and take put. I would recommend to family and friends.eileenNana
Like the feel and it works good
The first thing I noticed using this is that it's the perfect size to fit my hand and the finger grips on the one side make it real comfortable to use. It works great cutting pizza, which I do a lot since I use the small single serving pizzas. The metal piece that holds the cutting wheels has just the right amount of space between the piece and the wheel. The space is just big enough to fit the edge of a paper towel if you need to clean cheese from that space. I have a second piece cutter, but I've never used it since buying this one.
You may also be interested in