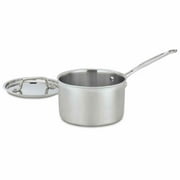 No other piece of cookware performs with the versatility of the Cuisinart MultiClad Pro Stainless saucepan. Whether you're preparing a delicate hollandaise sauce, steaming savory wild rice or simmering a hearty soup, no other piece of cookware offers more reliable results. Cuisinart MultiClad Pro Stainless Cookware bonds 18/10 stainless steel to a core of pure aluminum for unsurpassed durability and performance. We guarantee it with a limited lifetime warranty.
Heat Surround Technology allows for even heat distribution along the bottom and sidewalls of the cookware
Cool Grip riveted handle is made of solid stainless steelâstays cool for safe grip
Smoothly tapered rims eliminate drips while pouring
Flavor Lock tight fitting stainless covers seal in moisture
Customer Reviews
Perfect multi-purpose pan
The multi-clad tri-ply construction, on the bottom and sides, makes a significant difference compared to non-tri-ply pans.

It heats faster, more evenly, and not that you would want to do this but you can touch the bottom of the pan immediately after it has been subjected to high heat, without burning yourself.

Cleaning is maybe slightly more involved than non-stick pans but there's not a major difference between the two. I soak both stainless steel and non-stick pans a bit and then either hand wash or put them in the dishwasher. This pan is fully dishwasher safe, by the way, whereas some non-stick pans are not as it ruins the coating in some cases.

For the 3-quart size, I use it to boil water for rice, to boil water for pasta, and I often combine the cooked pasta with sauce in the pan right after boiling and have even combined stir fry meat, vegetables, and sauce with good results. Although, a skillet is best for stir-frys.

I'm nowhere near a chef-level and reheat stuff and cook pasta and rice mostly but this incredibly well-built pan fits the bill and does it remarkably well, without the need to use an 8-quart pan which takes more than twice as long to fill, and presumably to heat as well.Jason
Great Product, and exactly as described
I bought this for my wife. I was tired of the poor quality of the kitchenware she had.
If the pots / pans were OK the handles were poor and didn't last. I spent my whole
working life with the tools of my trade. I had an appreciation of QUALITY in my tools
and always got the Best I could afford. Those tools lasted far longer than the cheap
ones and in the long run were the better buy.
I just thought it time to supply my wife with QUALITY tools to use and appreciate.Art K.
Great Pan!
I love this pan!

While it wasn't very expensive, the quality is unmatched.

It conducts heat evenly and heats up quickly.

I use it regularly and I'm so thankful I made this choice!Catarina
You may also be interested in