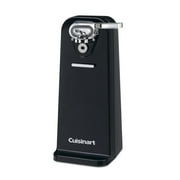 Style, convenience, and power come together in the Cuisinart CCO-50BKN Deluxe Can Opener in Black. With Chrome accents and elegant contours, it fits in nicely with other modern countertop appliances. The easy single-touch operation effortlessly opens and standard size can. The precision Power Cut blade and strong magnetic lid holder are attached to the removable lever, which can be easily detached for quick cleanups.
Power Cut blade
Single-touch operation
Opens any standard size can
Removable activation lever for easy cleaning
Automatic shutoff
Customer Reviews
A positive review on your can opener.
Avery good can opener & doesn't cut the tops of the lids off in strait rounded circle like the old can openers,used to. Instead the can opener cuts the lids in a swirl like line to avoid getting yourself cut.Just like the old can openers,used to.
Nice
Great product easy to useMscurvy10
A GREAT can opener,IWould recommend it.
I give high rating it's a great can opener.you just have to slow down a bit when you first start to use it and pay attention to lining up the can in the right points and then once you have your good to go cause it works great,it will cut right on through a bent can I had 2 of them,no problem. will hold the can till you take it off. I would recommend it.Mary
You may also be interested in